Why You Need Title Insurance When Purchasing a Manufactured Home
September 6, 2016

Categories:
For a comprehensive answer to this question, I would like to make a very important distinction first. Manufactured homes – or mobile homes, as many people still refer to this type of housing – are divided into two main categories: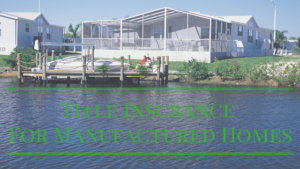 1. Manufactured homes permanently affixed to a lot – In this case, the house is considered real property, which means the homebuyer can get a traditional mortgage to purchase the home along with the lot to which it's affixed, if he doesn't own the lot already.
2. Manufactured homes that don't have a permanent foundation – These homes are treated as personal property, can be placed on land homebuyers own or rent, and purchased using a chattel loan, also known as chattel mortgage or personal property loan.
To avoid any confusion, a manufactured home is considered real property only after the owner records an affidavit of affixture with the County Recorder's Office. Once this document is recorded, the home is treated as real property and subject to the laws governing immovable property. As a result, a title insurance policy can be issued for the home.
Returning to the initial question, a manufactured home can come with many hidden problems you may end up paying for. Besides providing coverage for future claims and any losses associated that may result from certain past, unknown events, title insurance involves a thorough title search, which usually reveals if there are any title faults the previous owner failed to resolve before listing his home for sale.
The most common title problems range from unknown liens, errors in pubic records, omissions, illegal deeds, missing heirs and encumbrances to boundary disputes due to survey errors, forgeries and false impersonation of the previous owner. If any title defects are found, the title professionals will work with the seller and any parties involved in order to ensure you'll receive a clear title to the home you want to buy.
But what if you purchase a new manufactured home? Do you still need a title insurance policy? Similar to any other new home, a new manufactured home is subject to certain title pitfalls. Though you're the first owner of the house, the lot you intend to purchase has probably had one or more owners. Therefore, the land might hide different issues like rights disputes, non-compliance with development laws, encroachment problems, etc. Additionally, the main contractor may have failed to pay suppliers and subcontractors. This could result in one of more liens filed against your home.
While many people believe that the title insurance policy required by their lenders is enough to ensure there are no title-related problems, the lender's title policy offers no protection to the homeowner. To protect your investment against potential title problems, you need to purchase an owner's title policy. The really good news is that this type of policy will provide coverage for as long as you or your heirs have an interest in that home.
Whether you're just thinking about buying a manufactured home or you've already negotiated the price on a piece of property, finding a reliable title insurance company is one of the most important steps of the home-buying process. As an ALTA-certified title insurer, Guardian Title &Trust, Inc. specializes in resolving a wide variety of title issues nationwide, in a timely manner. But to ensure that our customers' needs are being met at every point of the closing process, we also offer a full spectrum of escrow and closing services for all types of real estate transactions. To learn more about our services, we invite you to contact one of our representatives.