Why you need title insurance when mortgaging a new construction home
October 3, 2016

Categories: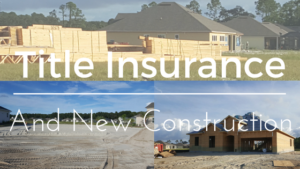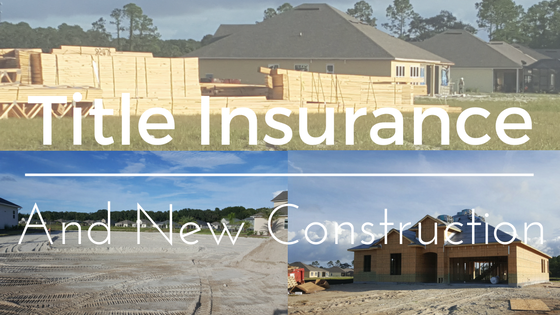 As a title insurance expert, one of my professional objectives is to debunk the myths and misconceptions many people have about this type of insurance. One important matter I would like to bring to your attention today is whether or not getting adequate title insurance coverage is necessary when building a home with a construction loan.
Many prospective homeowners and even some real estate professionals wrongly assume that newly built homes are free of title defects. Though it's very unlikely that someone will put a lien on new construction, many new homes carry various types of liens. Most of these liens are a direct consequence of unpaid mortgages, taxes, HOA fees, labor and/or materials at the completion of the job, etc. Even if the homeowner pays the invoice provided by the home builder, the latter might fail to pay the subcontractors for the materials supplied and services rendered. This could result in one or more subcontractors or suppliers placing liens on that piece of property.
Another important consideration is that new homes are built on "old" land. Though new properties presumably start out free of pre-existing title-related problems, the vacant land most people buy to build a home on can be subject to a series of unknown defects in the title. When title faults or claims are left unsettled for years, the new owner could face a significant financial loss at a later date. For instance, he might need to pay money out of his own pocket to have a lien removed and obtain a "clear" title, or worse, he could lose the title to his property due to fraud, forgery, errors or omissions. The owner's title policy exists to save property owners from these types of problems.
In addition to the title policy a would-be homeowner can get to protect his own interest in a piece of property, a separate policy might be required by the lender issuing the construction loan. If the property in question has a clear title, the lender will make the amount of the loan available for disbursement, provided that no changes in the loan approval process occur.
Another important aspect to keep in mind is that many builders insist that the buyer needs to pay for both the lender's and owner's title insurance policies. Even in the states where it's customary for the buyer to purchase the owner's policy, who pays for title insurance is often just as negotiable as anything else in the real estate world. After negotiating with the builder, make sure everything is put in writing before you sign the agreement.
What else do you need to know? Since there are lots of companies that provide title insurance along with a variety of related services, the best advice I can offer is to choose an ALTA-certified title insurer. Enlisting the services of a company that follows ALTA Best Practices when managing title insurance and related issues is the only way to ensure you get the best value for your money.
At Guardian Title & Trust, Inc., we're proud to hold and maintain ALTA's Best Practices certification. Not only does this mean that our company is compliant with ALTA's principles; it also means that our highly trained and experienced title agents are able to move through the closing process quickly and efficiently. Furthermore, our customer-focused approach, integrity and attention to detail have made Guardian Title & Trust, Inc. the title company of choice for many residential and commercial customers. To request a title examination or to find the best answers to different questions about title insurance, please contact our friendly professionals today at (904)-992-1162.