5 Common Misconceptions About Needing Title Insurance
October 17, 2016

Categories: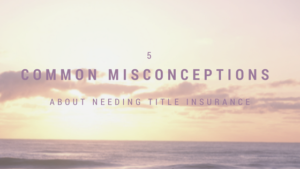 Title insurance is often misunderstood. In addition to being completely different from other types of insurance, title insurance is surrounded by a series of misconceptions and assumptions that hold many people back from getting the coverage they need. To help you decide whether or not this type of insurance is needed when buying a piece of property, let's analyze the five most common misconceptions about it.
Misconception #1: Owner's title insurance is a waste of money.
One of the questions I get asked most often is: "Why should I get my own title insurance policy when I've just purchased one for my lender?" Even though the homebuyer generally pays for the lender's title policy, this policy only protects the lender's interest in the collateral of the loan should a problem with the title arise. If you don't have an owner's title policy and get into a dispute, you'll be responsible for defending your rights to ownership, at your own expense. Although an owner's policy isn't mandatory, getting a separate policy is the only thing you can do to get protection against loss which may occur due to past events a title search has failed to uncover.
Misconception #2: Title insurance protects properties against marketability issues.
Unfortunately, this insurance cannot prevent the loss of marketability of a home. If one or more title-related claims arise, you won't be able to sell your home until the title company settles the claims on your behalf. Once all of the pending liens or claims are cleared, your buyer will receive a clear title to your property.
Misconception # 3: Title insurance isn't necessary when refinancing.
This is partly true. An owner's title policy is valid as long as the current owner or his heirs hold the title to that property. Since refinancing typically means taking out a new loan while remaining in the same house, you might only need to purchase a new lender's policy. Your lender may require a new insurance policy just to make sure that no title problems have occurred during your ownership.
Misconception #4: Title insurance protects against only a handful of title faults.
An extended title policy covers a wide range of pre-existing as well as post-policy title clouds that can spell trouble for a real estate transaction. These include without being limited to: unknown liens, errors in deeds, forgery on different important documents, partial interest in the property, undisclosed heirs, fraudulent actions, mental incompetence of former owners, undiscovered encumbrances, incorrect home appraisals, zoning bylaw violations and adverse possession.
Misconception #5: Title insurance is less important than other types of insurance.
I cannot say that title insurance is more important than homeowner's insurance, but it is at least equally important. That's not only because you can feel secure in the knowledge that any claim made against your home will be settled by your title insurer, at no cost to you; it's also because this type of insurance allows you to build your life without worrying about your new home being compromised.
With so many myths and misconceptions about title insurance, finding a team of professionals, who can provide concrete, accurate answers to any questions you may have about this topic and are ready to work hard to uncover any existing title problems and previously-filed claims, can make or break your homeownership experience. For relevant, precise information that will give you a better understanding of the whole title insurance process or for a free, no-obligation title insurance quote, we invite you to get in touch with our friendly staff today at Guardian Title & Trust, Inc.