3 Ways your employment affects your home buying experience
August 26, 2016

Categories: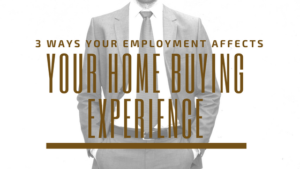 I've decided to write this post in order to provide a comprehensive answer to the following message I received from a reader a couple of days back:
"My wife and I are looking to buy our first home. We have enough money to make a 25-percent down payment on the home we want to purchase, and we've already been pre-approved for a mortgage. But I've just received a job offer I seriously consider accepting. If I accept the new position, will this affect my ability to complete the mortgage process? Could the lender change his mind and reject our application altogether? Or would he just offer us the same loan amount at a higher interest rate than the initial one? Are there any other possibilities? Thank you!"
Let's start with the most important thing: the mortgage pre-approval. A person who has been pre-approved for a mortgage may be able to get the loan amount and interest rate promised by the lender, even if a change in his employment status occurs. But a pre-approval isn't a guarantee that the person will get the mortgage no matter what he does. Therefore, one thing any first-time home buyer should keep in mind is that his employment status could greatly affect and even derail the entire home buying process.
Now, it's time to go into more detail and analyze three ways your employment can impact your home buying experience.
1. Employment history affects your credit worthiness.
As a general rule, lenders approve mortgage applications only after they check the overall financial situation, credit score and employment history of applicants. But many things can change between the pre-approval and the closing date. For this reason, lenders reassess the credit worthiness of would-be borrowers just before transferring the funds.
Certain changes with respect to your employment could negatively affect your credit worthiness along with your lender's decision on lending the money to you, and at which interest rate he's willing to do that. For instance, being out of work for several months, leaving a high-paying job to take one that pays less and/or entering into a completely different field might result in a rejection of your application, which will make the home buying process more complicated.
2. Your employment impacts your ability to repay. Your ability to repay your mortgage is paramount to your lender. Simply put, a lender will never make a loan to a borrower who has no capacity to repay. That's the reason why your employment plays such a big role in the home buying process. But your lender will pay attention not only to the job you hold today; he will also take into account the jobs you've had in the past, and especially, the jobs you may hold in the future. If you've decided to change jobs during the home buying process, your lender wants to make sure that you have a well-established plan for your future, including for the outstanding balance of your mortgage at a future time.
3. Switching jobs during the mortgage application period may make it harder to get the loan.
Throughout my professional career, I've come across situations in which the borrowers have switched jobs during the mortgage application period without any effect on their applications. Accepting a new position won't necessarily impact your ability to get a mortgage under the terms offered initially, provided that the new job is the next logical step in your career and offers an equivalent or longer employment period and a comparable or higher salary. Conversely, jumping from a salaried position to a commission-based career or self-employment might affect your chances of getting a mortgage, even if the new job will boost your monthly income.
Unfortunately, most mortgage applicants decide not to notify their lenders of the change. A lender checking the employment status of an applicant prior to transferring the funds will be surprised to find out that the borrower has left the company suddenly. Seen as an unexplained last-minute change, switching jobs without informing your lender could jeopardize your standing with him along with your ability to purchase a home in the near future.
One last thought: although you may obtain the same loan amount, at the same interest rate even if you change your job, you put yourself at risk of a denial for the mortgage. For this reason, your safest bet would be to hold off on the job change until after the closing, if possible.
If you've already found your dream home, and you're looking for a dedicated company for your escrow and closing needs, give us a call today at (904) 992-1162. Not only do our dedicated escrow and settlement professionals know the ins and outs of any type of residential or commercial transaction; they also work together with our experienced in-house title insurance experts who are committed to sorting out the complicated and risky real estate market for all of our residential and commercial customers.