3 ways to make house buying less scary
August 17, 2016

Categories: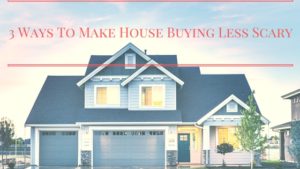 I'll never forget how scared I was when I purchased my first home. All those questions milling around in my mind made me realize that I needed to find out as much as possible about the house buying process. And that's exactly what I did. I took the time to explore all the aspects of buying a piece of property, ranging from getting the right type of loan to the final step of the closing process. But even so, I made a few mistakes that could have been easily avoided. If you've already found your dream home, here's what you need to do to breeze through the house buying process.
1. Do your homework.
To make house buying less intimidating, it's imperative that you familiarize yourself with a few terms like:
Property deed – A property deed, or simply a deed, is a legal document used to transfer the ownership of real property from the former to the current owner.
Title – In real estate, title represents ownership rights to a piece of property. The holder of the title can use the property as desired and/or legally allowed.
Title insurance – This type of insurance protects lenders and property owners from financial loss, potentially resulting from undiscovered title defects.
Title defect – Defining a variety of problems like errors in public records, liens, judgments, fraud, etc., a title defect could impair your ownership rights to a piece of property.
Escrow – Escrow represents a financial arrangement in which an impartial third party opens an escrow account and regulates the funds relating to the real estate transaction, while the seller and the buyer work out the details. Once all the papers are signed and the deed is recorded with the County Recorder's office, the escrow officer will disburse the funds and close the escrow account.
Closing Statement – Also called Closing Disclosure and/or HUD-1 Settlement Statement, the Closing Statement is a document that lists all the fees and commissions the buyer and/or the seller need to pay in order to successfully close a real estate transaction.
2. Get familiar with the title procedures.
Ensuring that the piece of property you're about to purchase doesn't carry any problems is another thing you can do to make the house buying process less scary. In addition to a home appraisal or inspection, hiring a title insurance company to examine the title for legal issues can help you avoid paying for expensive surprises later on.
Since the rights of a new owner can be hindered by title problems caused by the previous owner, title agents typically examine:
The chain of title – The chain of title documents, historical title transfers from the original owner, to the person who currently owns the property. Each time a deed to a home is recorded, a chain of title is created in order to accurately establish the ownership of a piece of property.
Dockets – When a lien or lawsuit is filed against the title to a piece of property, the title agent can find any pending lawsuits and encumbrances by going through court dockets. Some common encumbrances include unpaid taxes, outstanding mortgages, mechanic's liens and many other problems for which the new owner may be held liable.
Marriage licenses and divorce decrees – In addition to providing proof of name, marriage licenses and divorce decrees can greatly affect the ownership of marital properties.
Death certificates – If the previous owner passed away, the title search will bring out the proof of death along with any subsequent estate filings.
3. Find a reliable "ally" you can count on.
If you're trying to make the house buying process less scary and stressful, finding a reputable, ALTA-certified title insurance company that also offers escrow and closing services is the way to go. At Guardian Title & Trust, Inc., for instance, our title, escrow and closing professionals are able to create the best possible experience for all of our residential and commercial clients. To find out how we can help you take the hassle out of the house buying process, we invite you to visit one of our offices in Jacksonville, Fernandina Beach, or Stuart FL, call us at (904)-992-1162 or email admin@guardiantti.com.