3 Things Your Title Agent Wishes You knew
December 13, 2016

Categories: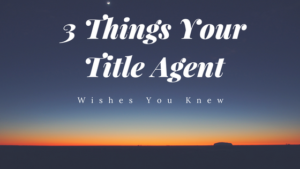 Understanding exactly what title insurance is and what it does can help you safely navigate the real estate waters. By reading as much as you can about this topic, even prior to approaching a title agent for expert advice, you can make a more informed decision about the amount of coverage you need. To help you with your homework, I've compiled a short guide that indicates three things every homebuyer should know before his or her first meeting with a title agent.
1. The cost of title insurance varies by state, level of coverage and fees.
The majority of the homebuyers who approached me over the years wrongly assumed that a title insurance company with a nationwide presence like Guardian Title & Trust, Inc., could offer identical title insurance rates, regardless of location.
As explained in a previous post, the title insurance premium varies according to the prices within local insurance markets, property type and its value, mortgage amount and type of coverage selected. As the title insurance quote also depends on the service fees charged by each agent, different title agents can offer you different title insurance rates.
In some states, title insurers are required to file their rates with the Insurance Commissioner and adhere to those rates. In other states, there is a "promulgated" rate which sets the minimum amount a company is allowed to charge for title insurance and related services. This gives a title agent the freedom to negotiate a higher rate with a potential insured.
On a side note, even the title insurance companies that offer identical ALTA policies can establish their own rates. If you're looking for the best rate out there, my advice would be to shop around in order to determine which title agent can offer the most bang for your buck.
When comparing title insurance quotes, make sure you get detailed information about the amount of coverage and services included. As an example, Guardian Title & Trust, Inc. offers a complete spectrum of services under one roof, including title searches and examinations, insurance policy issuing, underwriting, escrow, closing and other real estate transaction support services. In consequence, our quote may be slightly higher than the quote offered by other companies.
On the downside, choosing a title agent who offers a lower rate might mean that you'll have to pay extra for things like document preparation and endorsement, escrow, closing the transaction, etc. Paying for different services separately often costs more than getting everything you need from one company. But saving money isn't the only advantage of choosing a title agent who provides a wide range of services. You'll also enjoy a more streamlined closing process, which means that you can get the keys to your new home sooner.
2. The role of a title agent.
A title agent generally acts as a combined agent of all the parties involved in a real estate transaction. Some of the tasks a title agent performs include, without being limited to:
Conducting comprehensive title searches by reviewing public records;
Informing all the parties of the condition and status of the title;
Ensuring that the seller is the rightful owner and has the legal capacity to sell the property;
Issuing a preliminary title report that indicates any unsettled liens, judgments or other title problems that may affect the property or the ownership of the new owner;
Providing expert advice regarding the types of coverage available;
Issuing both title insurance policies (one for the homeowner and one for the lender) once the buyer has a fully executed agreement for the purchase, and the lender confirms he is satisfied with the property appraisal.
A title agent who also acts as a closing agent and escrow officer completes a series of additional tasks, such as:
Obtaining signatures on all of the closing documents;
Recording documents with the Land Records Division;
Setting up and managing escrow accounts;
Receiving and distributing payments related to the transaction;
Ensuring the funds are released only after all the conditions of the transaction are met.
3. The best time to start looking for a title agent.
It may seem backwards to search for a title agent before you start looking at homes and shopping for a mortgage. But doing so will give you plenty of time to evaluate different title agents, compare their quotes and choose the right one before the home-buying process becomes too overwhelming.
To make sure that all of our customers receive comprehensive support when it comes to real estate transactions, Guardian Title & Trust, Inc. provides a full range of title-related services. We also do everything possible to offer "clean" titles in conjunction with title policies that protect our customers and their lenders against losses which may result from title defects or liens against properties. This way, our customers are able to enjoy hassle-free, worry-free real estate transactions. To learn more about the services we offer throughout all 50 states, please feel free to contact Guardian Title & Trust, Inc. today.