3 Reasons Why You Need Title Insurance For a Vacation Home
November 1, 2016

Categories: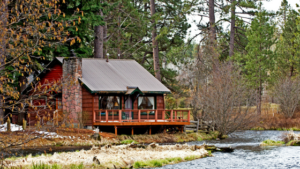 Whenever I talk about title insurance, the first word that comes to my mind is reluctance. Cash home buyers as well as those who purchase a piece of property with the help of a mortgage are often reluctant to buy an owner's title policy. That's because many people, including some of the professionals operating in the real estate market, view title insurance as a commodity that doesn't serve any purpose. However, most experts consider that getting owner's title insurance is always a good idea, but it is particularly important when purchasing a vacation home.
Why? Well, to begin with, it's not uncommon for extended families to share ownership of vacation properties. While brothers and cousins can inherit the same vacation home from their parents, there are situations in which several brothers, cousins or even friends consider purchasing a piece of property together, which otherwise will be impossible for any of them to buy on their own. In this case, the shared ownership of the residence is commonly referred to as tenancy in common. Although shared ownership can make sense on both personal and financial levels, disputes can arise among the co-owners of a vacation home.
From a home buyer's viewpoint, purchasing a vacation home that's in a co-ownership agreement can lead to a series of title-related problems that may prevent the closing from going through, or worse, jeopardize the right to ownership of the new owner in the future. In my practice, I've seen all manner of disputes over the years. Consequently, I advise potential home buyers to get owner's title insurance when buying a vacation home, especially for the following three reasons.
Forgery – Selling a piece of property without the knowledge and consent of all the co-tenants is a relatively "common" title problem associated with vacation homes. Once a person's name is added to a title, it can't be removed without his or her consent. In other words, if a person who owns a share in a residence doesn't relinquish ownership rights to the other co-tenants or doesn't agree to the sale of the property and sign the necessary documents, no one can have his or her name removed from the title – at least, theoretically. In some situations, however, people don't know they need the signatures of all the owners and end up selling co-owned properties without the consent of the other co-tenants. Only in rare instances, the sellers ask someone else to sign for or forge the signature of a co-owner who doesn't agree to the sale.
Unpaid taxes – Just a few weeks ago, I came across a title problem regarding a vacation home held in joint tenancy by two brothers. One of the brothers wanted to transfer his interest in the home to the other brother and recorded a quitclaim deed. As the first brother had outstanding tax debt, the IRS found the recorded quitclaim deed and asserted it as a fraudulent conveyance. Since the brother still owned a one-half interest in the residence, the IRS was given the right to attach a lien to the home's title. In cases like this one, even if the owners decide to sell the home right away, a title insurance company like Guardian Title & Trust, Inc. can easily find the liens placed on the home and advise the home buyer accordingly.
Conflicting Wills – Except for joint tenancies with right of survivorship – in which the surviving co-tenants are entitled to equal shares of the deceased's share – each co-owner can transfer his or her interest in a vacation home to a beneficiary of choice via a will. In addition to conflicts that may arise as a result of misplaced and unrecorded title deeds, which are required in order to transfer property rights, there may be separate wills with conflicting instructions. Obviously, conflicting wills can lead to different problems for a new owner. As an example, you might purchase a vacation home only to find out that another heir has a will which gives him a right in the property you've just bought. Without title insurance, you'll need to settle the claim at your own expense. Conversely, an owner's title policy will protect you from such issues. Even if you lose the ownership of the property – and this is very unlikely to happen – your title insurer will reimburse you for the actual money lost.
If you intend to purchase a vacation home or another type of real property, don't risk facing the foregoing problems. By opting for an owner's title insurance policy, you'll get adequate coverage against claims resulting from fraud, forgery, liens, missing heirs, conflicting wills and many other title faults covered under the policy. Now, if you have questions about title insurance or the closing process, please get in touch with our ALTA-certified title insurance, escrow and closing professionals today at Guardian Title & Trust, Inc.