Why A Title Search Is Necessary
January 24, 2017

Categories: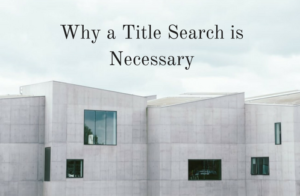 You're starting the process to purchase your first home. Congratulations! But have you thought about the property's title? Probably not. Getting a title search is important and will save you trouble in the long run. First, let's discuss what a title search does. A title search is designed to check if there are any issues associated with the title to the property you seek to purchase. A title search is usually performed during the closing process in order to reveal certain defects, if any.
What Can a Title Search Find?
A title search is conducted to find out if there are any issues with the property. Issuing a title search can potentially uncover are that of problems with ownership verification, liens, and error in public record.
Verification of Seller Ownership.
A title search verifies that the seller owns the property and that they have the right to sell it. There have been situations in which there is co-ownership of a property and one owner tries to sell without the other's permission. This gets messy at best. However, a title search will reveal these sort of things to ensure your buying process is smooth.
Liens on the Home.
A lien is a notice attached to your property saying a creditor claims you owe them some money. This can be anything from taxes not being paid or renovations on the home that were not paid for. If you buy a title insurance policy, the title agent is then obligated to run a title search to ensure there is nothing hindering you from purchasing the property.
Errors in Public Record.
Title searches seek to find even the smallest of clerical errors that could negatively impact the purchase of your home. The title search ensures all the information on the title is stated correctly so that problems based on the title information will not arise later.
The Process.
Obtaining a title insurance policy is the easiest way to get your title searched. Prior to issuing a title policy, the title insurance company will search through public records, looking for all the different issues discussed above. If there are not any problems that can be found in the title search, the company will then issue a policy that will defend you if anyone challenges the title. Title search fees are associated with issuing a title insurance policy for the lender.   
To find out if there are any issues with your title, a title search is necessary to save you a headache in the long run. However, even the most thorough searches have the potential of missing something. This is where we come in. At Guardian Title and Trust our team of professionals can provide answers to any questions you may have about uncovering existing title problems. To gain a better understanding of the entire title insurance process or for a free, no-obligation title insurance quote, contact us today. We guarantee personal service that exceeds expectations.