What is a Title Defect?
July 27, 2017

Categories: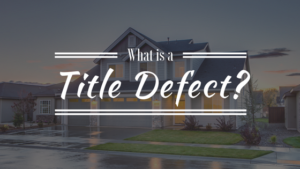 According to Florida title insurance professionals, a title defect can take many different forms, ranging from errors in public records to liens, encumbrances and judgments.
A title defect, therefore, defines any factor that can make real estate transactions more complicated and potentially delay the home-buying process, render the title unmarketable and even preclude someone's ability to sell a piece of property.
A few examples of title defects are:
Clerical errors or omissions in deed recording, such as incorrect marital status or missing heirs;
Filing errors or inaccurate recording of ownership;
Unsatisfied judgments against previous owners;
Unknown liens placed on the property;
Undiscovered encumbrances;
Adverse possession;
Unknown easements and boundary/survey disputes;
False impersonation and forgeries.
How Do Title Defects Affect The Title to a Piece of Property in Florida?
If you're looking for a home or a piece of land in Florida, knowing exactly how certain defects, also referred to as clouds or faults, affect real estate transactions and ownership rights can save you a world of hassle.
Florida title insurance agents typically discover and remedy most title defects before the closing. In certain situations, however, some title faults might remain hidden.
If a title insurance company agrees to issue a policy that provides coverage against potential title clouds, the title is considered insurable.
Conversely, a defect that cannot be solved and is excluded from coverage might make the title to a piece of property unmarketable. Although some title-related disputes can be addressed and resolved in court, an unmarketable title can prevent homeowners from selling or transferring their properties to other parties.
What's more, certain title faults might prevent a home buyer from getting a mortgage. Based on a judgment awarded by the court, for instance, a creditor can put a lien on a home for unpaid debt.
If you intend to take out a mortgage in order to purchase that home, it's essential to know that creditors generally refuse to issue a loan until the seller pays off any outstanding debt and the judgment is removed. Lenders know that if they grant loans for properties that have liens attached to them, they might receive nothing from foreclosure proceedings because "senior" liens are paid off first in foreclosure.
Many common title faults that might impair your ownership rights to the property in the future can be avoided with proper due diligence. Since some problems that might accompany defective titles are resolvable, the inconvenience associated with solving them is a small price to pay for buying your dream home.
As part of the due diligence process, you should consider enlisting the services of a reputable ALTA-certified Florida title insurance company. A team of experienced title insurance professionals who comply with ALTA best practices and have a proven track record of success will be able not only to conduct a comprehensive title search but also to provide an owner policy that can protect your investment against wide range of title defects. Please contact us today to learn more about how our title, escrow and closing agents can help you with your real estate closing.