Tips for Buying your First Home: The Things You Don't Want to Forget
March 22, 2017

Categories: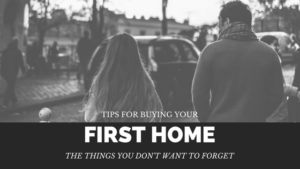 Are you planning on buying your first home? Then, you probably already know some things about the home-buying process. But regardless of what you know, there are a few essentials you may involuntarily overlook.
To help, I've gathered below several informed ideas you absolutely need to be aware of in order to get the most out of the purchase you're about to embark on.
The Deed or Title to a Home Doesn't Provide Protection against Title Problems
Many homebuyers wrongly assume that possessing the deed or title to a home implicitly means they own the property free and clear of any problems that may jeopardize their ownership rights.
But that's not always the case. As a title insurance professional, I've encountered many situations where other people had certain prior rights or filed different claims against properties. The deeds or titles held by the new homeowners didn't help them demonstrate the full ownership of their homes. As a result, the owners who chose not to invest in a title insurance policy had to clear up problems at their own cost in order to get titles free of defects.
Fortunately, homebuyers can remain the true owners of their properties without spending a fortune. The only thing they need to do is get adequate title insurance coverage. If you hire a title agent, for example, he or she will perform a complex title search to identify any claims, liens or other title issues associated with the home you want to purchase.
Once the agent determines there are no title faults or resolve any existing title defects that may jeopardize your ownership rights later on, he or she can recommend a title policy that provides adequate protection against loss potentially arising from undiscovered problems concerning the title.
The "Loan Policy" Protects Only the Lender
Another fact you can easily omit when buying your first home is that the title insurance required as a condition of mortgage approval—and commonly referred to as lender's title policy or loan policy—will only protect the lender's interest, up to the amount of the mortgage.
To protect your own interest, you need to get an owner's title policy. This policy defines the "hidden risks" covered along with the exclusions established by the insurer, according to the maters discovered during the title search process. In other words, the owner's policy protects only you against the title faults you're not aware of.
Title Insurance Covers Risks You Might Not Even Think Of
Although it is very likely to get a "clean" title when buying your first home, title problems may arise at any time, even due to small issues like an undiscovered clerical error during the past title transfers.
Even if you purchase new construction, many people may have owned the land before. Therefore, there was a chance for error every time the title was transferred to another buyer. If errors occurred but weren't discovered until you became the owner of the property, your ownership rights could come into question.
But an owner's policy can protect you from financial loss resulting from different errors along with many other problems—including claims for unpaid taxes and contractor work, undisclosed/missing heirs, confusion caused by similar names, and invalid, unrecorded or forged documents—up to the face amount of the policy. Additionally, title insurance covers the expenses of defending homeowners against any covered claims.
If you've just decided to get title insurance, please contact us at Guardian Title & Trust, Inc., or feel free to shop around and compare services and fees. Remember, however, that a title policy is only as sound as the insurer who issues it.