Outdoor Decorating Trends For Your Home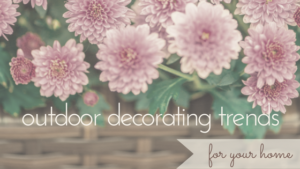 While waiting to close on their homes, many home buyers imagine their interiors and outdoor spaces decorated in their own styles. But even though decorating a home seems simple enough, keeping up with the latest trends can go a long way toward improving the look and feel of your property.
As we take great pride in helping our customers in as many ways as possible, we've decided to go beyond title insurance topics and talk about something different today: outdoor decorating trends. Please read on to find out some of the trends set to dominate outdoor spaces this year.
Outdoor Spaces Viewed as Extensions of Interior Living Areas
Whether you intend to opt for a minimalist, rustic, Scandinavian- or Mediterranean-inspired interior, decorating your surroundings to fit your living space will turn the "great outdoors" into a continuation of your home.
For example, if you have a modern interior, you can add a few contemporary outdoor decor elements like stainless steel garden trellises and flower pots. Rustic decor, on the other hand, would go much better with natural materials, such as rock, wood and terra-cotta pots, which are super trendy this year.
From simplistically modern to bohemian chic, the surroundings of Scandinavian- or Mediterranean-inspired interiors can be complemented with natural components like brick pathways, stepping stones and wooden trellises for a more authentic, real, free-flowing outdoor decor.
Outdoor Decorating Trends Taken One Step Further
Adding a wide variety of plants to your outdoor space is a great way to create a breathtaking symphony of colors and fragrances. However, using paint is one of the best outdoor decorating trends you can use to get a perfect backdrop to a specific area or plant.
For instance, painting one of your outdoor walls with a bright color, such as light yellow, can help you highlight a seating area, a tree or a row of potted plants, while creating the feel of an outdoor "living room."
If you live near the coast, using serene colors instead of bright hues is a good idea to create a relaxed ambiance that better fits coastal locations. Moreover, mixing and matching colors with natural materials like wood, wicker, rattan, bamboo, stone and hemp will give your outdoor space a surprising twist.
The Latest Outdoor Decorating Trends Favor the Local "Market"
Growing a wide variety of native plants that attract wildlife, keeping your surroundings green and healthy, and avoiding chemicals as much as possible are just a few things you can do to protect and support the local ecosystem.
As native species of plants are already accustomed to the local climate and soil characteristics, you can grow a beautiful, sustainable and productive garden with less effort.
Furthermore, by replacing neatly manicured outdoor spaces with gardens that bring together ornamental and edible plants, which have the genetic material to withstand local weather conditions and combat diseases and insects naturally, you can better address challenges like drought, water shortage and the use of synthetic fertilizers and pest-control chemicals. Needless to say, having a sustainable garden will allow you to reap all the health and well-being benefits the outdoors has to offer.
These are just a few outdoor decorating trends you can use as a source of inspiration for your home improvement projects.
Additionally, if you're ready to buy or close on your dream home, Guardian Title & Trust, Inc. can offer reliable title insurance, escrow and closing services for your property. To talk to our friendly professionals, please give us a call today at (904)-992-1162.