Do You Need a Title Policy When You Refinance?
February 23, 2017

Categories: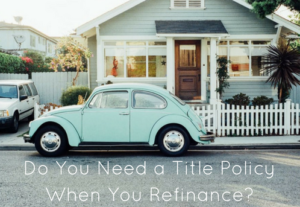 Refinancing can help you reduce your monthly mortgage payment. When you do this you have to draw up another mortgage because you are replacing the other one. There are many factors that determine if you are able to refinance.
One is your credit score. Without good credit it will be hard for you to apply for another loan. Another point to keep in mind is the length of time it will take you to pay off your mortgage. If you refinance, thus making your payments lower, it will take you longer to pay off your mortgage. But what about your title insurance policy? Do you need a title policy when you refinance? The popular belief is that since the home is still in your possession that there is no need for another title insurance policy.
While this is true, keep in mind that you are drawing up a new mortgage with new terms, even if you are using the same lender.
Here's what you need to know:
When you refinance you are getting a new loan, but you are still the owner. Therefore, even if it is the same lender you will still be drawing up a new loan, which requires a new lender's policy. Your lender wants to ensure they are protected as many things could have happened since the original title search.
Let's review the differences between a lender's policy and an owner's policy:
The lender's policy is required during the mortgage origination process. Paid by the borrower, this policy doesn't always cover the full value of the property, but protects the lender up to the amount of the mortgage. Since the lender's policy is attached to the mortgage, you'll have to buy another when you refinance.
The owner's policy protects the landowner. This type of policy is optional and can represent the full value of the property at the time of purchase and lasts as long as the person owns the home. Therefore, you do not need a new owner's policy when refinancing.
In all, when refinancing, you still own the home, so there is no need for a new owner's policy. However, you are creating a new mortgage, so you have to buy the lender's policy once again. Therefore, you do need a title policy when you refinance. At Guardian Title & Trust Inc. we can help you take care of all of your title insurance needs. We are here to help you achieve your dream by making your title experience go as smoothly as possible. Contact us today to start your title insurance process!