Jacksonville Title Insurance: Understanding the Difference Between an Insurable and a Marketable Title
July 11, 2017

Categories: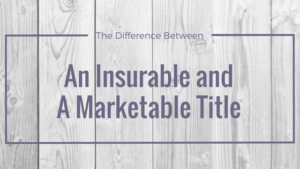 If you intend to purchase a piece of property in Jacksonville, FL, you might assume that all you need to do is enlist the services of a Jacksonville title insurance company to perform a title search, sign the closing documents and pay the seller.
But if you're not careful, you may wind up with a defective title that can prevent you from selling the home in the future. One way to avoid ending up with a title that might be defective is to understand the differences between a marketable and an insurable title.
How Is an Insurable Title Different from a Marketable One?
To begin with, an insurable title indicates that there might be a series of defects in the title of a piece of property. However, if the property you want to purchase has an insurable title, it means that a Jacksonville title insurance company has already agreed to correct or provide coverage against those defects.
If the insurer is able to fix all the title clouds before the closing, you can obtain a clear title to the property in question. Some problems a title insurance company can resolve and remove from the title include mortgages, liens, property taxes, encumbrances and/or judgments.
Conversely, a marketable title is free of liens, encumbrances, judgments and other defects that can cast doubt on its validity, including clerical errors, breaks in the chain of ownership, undisclosed heirs, forgery and fraud.
When purchasing a home in Jacksonville, FL, it's advisable the title examination to be performed by experienced title insurance agents, who have the requisite skills and qualifications to conduct the search in accordance to industry regulations and ALTA Best Practices.
Depending on what the professionals find, they'll determine whether the title is marketable or insurable. In the latter case, they'll offer you a Jacksonville title insurance policy that can protect your ownership rights.
How Does the Status of a Title Can Affect a Real Estate Transaction?
As a home buyer, you need to be aware of the risks associated with accepting an insurable title. It's not that title defects might threaten the use of property or ownership, as the defects in insurable titles are typically minor, thus very unlikely to limit or jeopardize your right to ownership; rather the next buyer might demand a clear, marketable title if you ever decide to sell the home.
However, it's up to you to decide if you'll accept an insurable title upon learning of any existing defects. While a marketable title is preferable, the reality is that insurable titles define the standard by which the real estate industry operates.
If you're looking for a Jacksonville title insurance policy, hiring an experienced, reputable and ALTA-certified title insurance company is a surefire way to get the right policy for your property. Since insurable title defects aren't the same, only a team of knowledgeable title insurance professionals can evaluate whether a title fault is an acceptable risk or not.