3 Ways You Can Make Your Title Insurance Experience Better
February 3, 2017

Categories: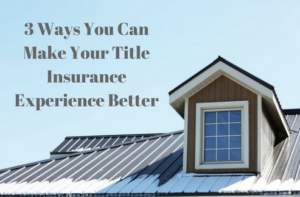 The process of home buying can be extensive and at times painful. Finding that dream home, obtaining financing, and making the proper arrangements to protect your home are all part of the journey to becoming a homeowner. Why make it any more complicated? When it comes to protecting your home, title insurance should be on your mind. You might be thinking "Great, something else I have to think about." Don't worry! Buying title insurance doesn't have to be difficult.
Here are 3 ways you can make your title insurance experience better.
Do Your Research. The process will be easier if you understand the purpose of purchasing title insurance. Know the difference between an owner's policy and a lender's policy. It will save you time in the long run, even though most title companies will be more than happy to explain what you need to know. However, in our experience people tend to not want to take more time than necessary. Being educated when you begin this journey will help your purchase experience run much smoother.
Choose a Compliance Driven Company. There are many reasons why you should choose a compliance driven title company. The top reason is that they will follow best practices. ALTA Best Practices Certification ensures that business is done with integrity. Some of the following things fall under the ALTA Best Practices. It requires applicants to adopt and maintain specific best practices; implement a security program to protect customer information; keep its employees updated on new standard procedures; act in accordance with the latest federal and state laws and regulations applicable, etc. You will also be getting thorough title examinations, the best rates, and great customer service when you choose a compliance driven title insurance company.
Don't Wait Until Last Minute. This goes without saying. It will only make your closing process delayed the longer you wait. Prior to closing, the insurance company will run a title search on a property. On average this could take anywhere from two to three business days. If there is a problem then you will want it to be resolved before closing. Therefore, the sooner you decide the company you are going to work with, the better. You don't want to delay the process any more than necessary.
At Guardian Title & Trust, Inc. we are dedicated to making your title insurance purchase process easy. We continue to offer thorough title searches, comprehensive title insurance coverage, and professional closing and escrow services to ensure you are able to obtain your dream home. As an ALTA Best Practices certified title insurance company, we're ready to protect your dream of homeownership by making sure you have a clear title. Contact us for all of your title insurance needs.